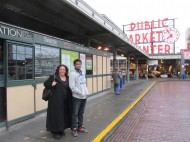 I got up super super early (6am) in order to walk down to Pike Place Market with Atossa and Panneer so they could see it before we had to fly out of Seattle later that morning. We got there when the market opened. Unfortunately, most of the vendors don't set up that early on a Sunday–oops! There was a race going on; I have nothing else to say about it, just wanted to mention it as there's a photo below of it LOL We walked around a bit and then we got some coffee at an adorable coffee shop across from the market, so we could keep an eye on it. We had a great chat; I really enjoyed getting to know both of them better.
Once the vendors started setting up, we headed over for a proper look. We met some pigs :-)
I bought some art and drooled over a lot of things I wish I could buy. I bought some grapes and forgot to get a receipt (oops!), but the grapes were delicious. We also went to a fantastic used bookstore on the bottom level. The owner helped us find some things and also cheerfully sang to us. What a great visit :-)
While we were at the bookstore, we got phone calls telling us our flight leaving a couple hours from then had been cancelled. It was supposed to start snowing back home. Not that it WAS snowing. Not that it would be snowing when the planes arrived, even. It was going to be snowing later that night! We totally could have made it home way before the snow, but the airline cancelled it prematurely so the plane wouldn't get stranded in D.C. after getting us there. UGH! So… my reservation was with three other AWP staff members, one of whom was a super special VIP gold reward member which meant our flights had been automatically rescheduled for something crazy like 3am to San Francisco. This meant we had a whole extra day in Seattle we hadn't counted on.
Now that we knew we didn't have to leave for a flight, we took our time in the market. I dragged them to a freaking awesome comic book store where I bought a couple issues of the new Firefly comic series and a Watchman button. I drooled over the Hawkeye Fraction hardcover but it was expensive and heavy and I wasn't sure if I could find it cheaper (as it turns out, I couldn't and ended up buying it from my local comic book store a couple months later). I could have spent all day there! We also went to Left Bank Books where I drooled over books and finally bought a sticker and a Spike (Buffy) pin. It was raining and I was hungry already; it was mid-morning. I said farewell to Panneer and Atossa and headed back to the hotel, by way of the store for another veggie steak meal. YUM.
Back at the hotel, I learned two new things: 1-I somehow lost the Spike button I'd just bought and 2-they were doing construction under my room at the hotel and wanted to move me. As I didn't plan on sleeping in the room again or being in all day, it wasn't a problem. I went back to the bookstore and asked if maybe I'd left the button on the counter; I hadn't. Oh well; worth a shot. Now that I suddenly had an extra day, I took advantage and snarfed all the snarfs on the snarf map melydia gave me that I couldn't get to on Monday. Armed with ziplock bags and snacks, I set out. I quickly relearned one more lesson: it is not so much fun to snarf in the rain. And Seattle has a lot of rain. A LOT OF RAIN. It didn't rain at all Tuesday through Saturday. But on Monday when I had free time and Sunday when I had free time to snarf: RAIN. SO MUCH RAIN. But I was determined to snarf all the snarfs.
It was so wet I finally broke down and bought an umbrella. I bought the cheapest umbrella I could find at the CVS, wishing I'd thought to pack one, but umbrellas are hard to handle during snarfaris. I was desperate and wet, though, and needed one. After walking all the way over to Pioneer Square, I spotted a cool toy store and, shivering and drenched, went inside. Magic Mouse is an awesome toy store. Also, dry inside. I ended up finding some LEGO Movie minifigs and spent about an hour going through two different boxes of them to feel the packages for the ones I wanted, even though I hadn't seen the movie yet. I bought a few small items as presents for people too. And I bought an adorable hedgehog stuffed animal which was the perfect size to go with my otter back home. Yay :-) They had one of my favorite games from childhood, Run Yourself Ragged, only the redone version was a mirror image of the original. Weird! I snapped a photo before I realized you weren't allowed to take photos in the store. Oops!
I emerged from the toy store, feeling dry and ready to keep snarfing. I snapped a couple more photos and realized I was SO not ready yet. I was freezing and cold and hungry. So I went into the Starbucks across the street and had a croissant and a chai. It was so hot I burned my mouth so happily. I Eeyore and I even snarfed from inside the Starbucks! That's the way to do it in Seattle! LOL The chai really hurt my tummy; that was a terrible mistake. But at least it was warm and I was properly dry afterward. I called Mom back home with my changed travel plans.
Then I set back out with a new-found drive and relatively less soggy shoes. I walked up and down one stretch of the street, looking for a snarf everywhere before I realized it had been on the sidewalk, right under my feet the entire time! Also during the day, I managed to visit or at least walk past something like 6 independent bookstores, including one just for mysteries. That was pretty neat.

I headed down the street, looking for more snarfs on the map melydia had made me. Lesson number 4 of the day: always check to find out what parts of town you should NOT be snarfing in. Nothing happened to me, but at one plaza I was outnumbered by homeless men about 20 to 1 and feeling like they were all staring at me ('cause they were). I also missed a snarf because they were all standing in front of it. But at that point, I just wanted to, um, leave and be safe alone. There was a whole trail of markers by the waterfront, so I headed over in that direction and found two things: 1-construction blocking the place where all the markers were and 2-a tent city I was suddenly in the middle of. Another oops and lesson confirmed.
So I headed back to Pioneer Square and back toward the part of town I was more familiar with. I snarfed around the Seattle Public Library, including seeing some up-close that I'd seen from the higher level windows of the library the day before. I found a bunch I hadn't planned on getting to. I was miserable and wet and the rain and wind started getting stronger. Finally, I drew the line. I found one more snarf and then called it a day.
I went back into the hotel with some difficulty. The gentleman who was trying to enter in front of me and I had trouble getting in. A hotel employee kept gesturing from inside and I kept trying to explain and he was being an idiot and finally he opened the door for us. I squished my way to the elevator. I have never, ever been so wet in my life outside of a swimming pool.
I got back to my room and started drying things out. I had only the one pair of jeans and one pair of sneakers. My jeans had gotten so wet the blue ran into the socks, making them bright blue; they stained the tops of my shoes as well! I took a wonderfully hot shower. Then I set to work with towels and newspaper and the hotel hair dryer. I didn't have much to eat because I'd given away all my food already. But my coworkers were going out to dinner. I ended up wearing dress shoes and slacks from the conference and a non-matching shirt I'd intended to wear the next day when going out with them. I looked stupid but DRY and that's what was important. Also, I managed to eat a few things at dinner that didn't make my tummy hurt. Yay for rice! With the exception of a hilariously awkward moment when I mentioned I'm a hurt/comfort girl and that was interpreted the absolute wrong way, it was a wonderful dinner. It was so much better than last year's post-conference staff party. We could enjoy our time in Seattle and have a relaxed dinner together to celebrate the end of a successful conference. We were all worried about not getting home, but it was still nice to spend the time together.
After dinner, I went back to the hotel room, packed, and then had a couple hours until we were leaving for the airport. Instead of sleeping, I dried my clothes some more and then watched the first episode of Survivor streamed online from the CBS website. It finished just a couple minutes before I had to meet the others downstairs. Good timing! At this point, I'd been up for 19 hours straight and on my feet for most of that time.
It was only going to get worse from there.